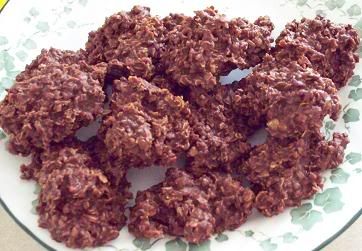 Ingredients:
2 c. sugar
1/4 c. butter
1/2 c. milk
1/3 c. cocoa powder
1/2 c. creamy peanut butter
1 tsp. vanilla
2 1/2 c. instant oatmeal
Combine sugar, butter, milk, and cocoa powder in a saucepan and bring to a boil, stirring occasionally. Remove from heat and stir in peanut butter and vanilla until peanut butter is melted. Then stir in oatmeal. Drop by the spoonful onto waxed paper and let cool.
These are Aaron's favorite cookies. Someone always makes them for church activities (don't know who that person is) and finally Aaron told me that I need to find a recipe and start making them for him. So I did just that. He said that I could have added more peanut butter (sometimes I think he loves peanut butter more than he loves me) but I think they turned out good just the way they were. Personal preference, I guess.